Join us this summer for our annual STEM camp.  Camp is offered the weeks of June 5-9 and June 12-16.
STEM Day at the Capitol 2016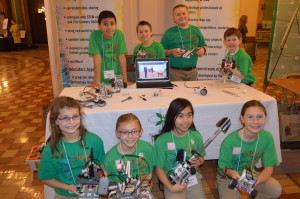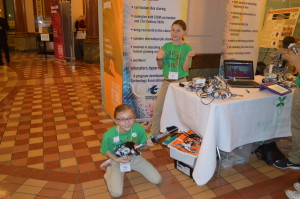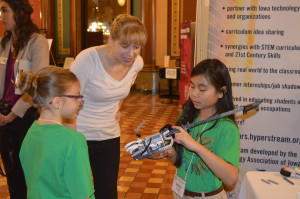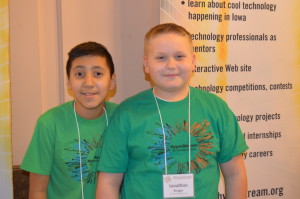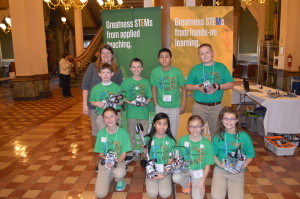 Legislator were enthralled with the STCS students. Lt. Governor, Kim Reynolds, really enjoyed the video about the Governor and Lt. Governor.
This year STCS was featured on the printed material for Stem Day!
STEM Day at the Capitol 2014
The educational opportunities for our kids are huge. As a core curriculum, these programs represent the highest quality of education available. Outside of school, our students and teachers are now tied into continued learning opportunities through local, state and national STEM programs. The benefit to our teachers cannot be overstated. The STEM programs bring together the most effective learning tools, professionals and resources for strong implementation of a sustainable program.
What do students gain with STEM?
Creative critical thinking
Problem solving
Innovative thinking
Communication skills
Productive teamwork
Decision making
Confidence
Our students learn to inquire, think, investigate, and innovate. Our students learn to work productively in teams.
What Does A STEM Classroom Look Like?
STEM caters to all kinds of student learners working closely together using hands-on methods to solve real-world problems.
STEM impacts more than math and science skills.
STEM skills are in high demand in every field. Innovation is the key to developing new products and processes that sustain our economy. Skills obtained through STEM education can apply to many other subjects. Sparking a student's imagination and striving for innovation while being critical thinkers and effective problem solvers leads to success in all fields.
STEM prepares our students for successful careers in a 21st century workforce.
Our STEM units:
Saint Theresa was awarded multiple grants under the STEM application process that became available through the State of Iowa.
Pint Size Science (ages 3-5)
The Science Center of Iowa's Pint Size Science program provides a platform for young children ages 3 to 5 to explore science in a highly-engaging, interactive, and safe manner.
A World in Motion (grades K-5)
AWIM provides science, technology, engineering and math education through inquiry based real world engineering challenges designed students. The students work within a structure to solve a challenge through design, build, and prototype test stages. Students also defend their design. Projects include skimmers, jet toys, and gravity cruisers.
Engineering is Elementary (grades 1-5)
Engineering is Elementary is a research-based, standards-driven, and classroom-tested curriculum that integrates engineering and technology concepts and skills with elementary science topics.
KidWind's program introduces students to forms of energy, renewable energy, aerodynamics, and energy conversion. Students build wind turbines and solar houses.
HyperStream focuses on technology and offers real-world learning for students through hands-on technology projects combined with the opportunity to work with technology mentors.
STEM Carolina (grades 3-5)
These units were developed by the Smithsonian and explore life, earth, physical sciences and technological design. Third grade students explore the unit Microworlds and view everyday objects with a variety of lenses. Students use microscopes and learn the functions of each part of the microscope. The fourth grade unit is animal studies. Students work with live animals and build habitats that each type of animal requires. Food Chemistry is the focus for fifth graders. Students learn all about our food and what is in it. Students analyze certain food content to identify the different components present including starches, carbohydrates, proteins, fats, and vitamins/minerals.
Project Lead the Way (grades 6-8)
VEX robotics kits and related educational materials are utilized to implement a robotics-based curriculum for all middle school students. Students design, build, and code. This program is the middle school portion of the STEM engineering program offered at Dowling Catholic High School.
Stay informed on local STEM opportunities by visiting the website: